Fancy yourself quite the handyperson? Maybe you're a passionate gardener or you find painting therapeutic? Wondering how to do for-good work using your handiwork skills?

Well, then, you could make an impact in sustainable development through GVI's construction internships.
Construction internships equip you with practical experiences that'll boost your future employability. GVI provides international construction internships that contribute to infrastructure development in underserved communities.
Whether you're after a long-term career or not, our internships will give you hands-on experience that employers look for, and a competitive advantage against your peers when applying for jobs.
Construction interns can choose to participate in sustainable construction projects in Nepal, Costa Rica, or Fiji.
A GVI construction internship abroad gives you:
real-world experience with community engagement and field work

training and mentorship on sustainable building development

the chance to contribute to the maintenance of infrastructure in underserved communities

access to mentorship and feedback on any individual research project work

a chance to develop your teamwork, collaboration and critical-thinking skills

access to GVI Online coursework

assistance in finding employment via job boards after successful completion of your internship.
Our participants take part in unskilled construction work. This is because of GVI's ethical principle of "Primum Non Nocere" which means, "First, do no harm."
This means that we'll never knowingly allow participants to do anything they're not qualified to do in their own home country. Rather, construction internships involve supervised, simple tasks like painting, woodwork and hanging shelves.
For tasks that require specialised skills, like welding or bricklaying, local professionals are employed. These local resources are funded either through participant program fees, GVI Charitable Programs or by funds raised by participants themselves.
By contracting local companies, GVI also contributes to the sustainability of construction projects by providing work opportunities and increasing a sense of local ownership over initiatives. This is one of GVI's Ten Ethical Commitments.
Interns play a key role in contributing towards our construction project goals. GVI aims to address basic human needs and protect those most at risk. We work to improve key infrastructure to improve community access to public health, education and early childhood development.
During your construction internship, you could be involved in:
helping to build classrooms and jungle gyms for local schools

improving sanitation facilities

basic repairs and renovations of any run-down facilities

rejuvenating an old building with a fresh coat of paint.
With GVI, you'll have the opportunity to customise your construction internship based on what you're hoping to get out of the experience. Our internships are available as one of the following three internship types:
research internship
The type of experience you're looking for will influence the type of internship you choose. And, don't worry if you aren't quite sure what type of experience you want – our enrolment staff will talk you through each of the options available to you to help you find your perfect match.
Students will also be able to choose their program duration, with options of between 4 to 24 weeks, and start dates occurring every 2 weeks.
Types of construction internships
The three types of construction internships you can choose from are career, research or core internships.
Career internship
On a career internship abroad, you'll work closely with GVI's global partners, either locally or virtually, to complete a range of project work that'll give you a more advanced and specialised experience.
Career internships are well-suited to participants who are looking to gain additional experience working and making an impact with international partner organisations. This type of construction internship will give you a leg up in your career as a sustainable development practitioner.
You may be tasked with things like researching rainwater harvesting systems, looking at the effects of positive changes in school infrastructure on learner performance, or observing the effects of a vegetable garden in the overall food security of a community.
Research internship
Research internships would be the best choice for participants who are after an advanced experience in field research, or who are in the process of completing a thesis or research paper for university.
Both of these internship types include an employment guarantee for interns that take part in an internship for a minimum of 6 months.
Core
internship
If you aren't too sure which direction your career is heading, you might want to opt for a more general experience that'll give you insight into a broader range of roles. If that sounds spot on – then a core internship is the one for you. Core interns won't have extensive research tasks or be involved in additional project work with our international partners, but they will have additional responsibilities including:
leading surveys, program activities or workshops

helping with fundraisers and

GVI Charitable Programs

activities

creating content for social media and blogs

organising testimonial content from GVI alumni.
Regardless of which type of construction internship you choose, you'll have the chance to make an impact while you gain valuable industry experience and soft skills like leadership and teamwork.
Completing a GVI internship means you'll benefit from:
pre-program training including a support group call, our GVI around the world presentation, and

GVI Online leadership

and

community development

specialisation courses endorsed by the University of Richmond

being trained on sustainable development

gaining experience working with local communities

potential placements and preferential access to internal GVI employment opportunities.
Where can I go on my construction internship with GVI?
Do you want to spend your free time spotting the Big Five of South Africa or experiencing the sun-soaked ports of Ghana? Maybe the towering peaks of Nepal are calling your name? Is the picturesque island of Fiji on your bucket list? Or, perhaps the rich biodiversity in Costa Rica is a dream destination for you?
Well, no matter where you choose to go, with sustainable development programs and internships in over 13 countries – you'll be in for a treat when you become an intern with GVI.
GVI runs sustainable development programs and internships across these four continents:
What should I know about construction internships with GVI?
Questions to ask before you start your construction internship abroad
Q: How do I know if the internship I want to do is ethical?
A: GVI is committed to a high level of ethical practice in every area we cover.
We are committed to ten ethical principles and five human empowerment principles. These core aspects of GVI programs mean that interns get involved in community-led work that speaks to the current needs of local people. Interns are also required to interact with local communities in a way that respects and builds on their ownership of sustainable development construction projects.
Q: How long are the construction internships at GVI?
A: Our construction internships at GVI can last anywhere from 4 to 24 weeks, depending on the amount of time you have to commit to the program.
Q: Will I get paid to intern?
A: No. GVI offers unpaid internships. The program fees you pay for your construction internship will cover accommodation, meals, training, equipment and in-country transport to and from projects.
To find out more, read our blog post: Why pay to volunteer abroad?
Q: Who will I be working with during my internship abroad?
A: GVI staff and interns come from all around the world and, as a result, have different backgrounds and cultural beliefs. You'll meet and work with like-minded people from GVI as well as from the local community. And, it's likely that you'll leave your internship with new life-long friends.
Dominated by the towering peaks of the Himalayan mountains and contrasting romantic rhododendron forests, Nepal is a bucket list destination for many. But, Nepal has much more than dramatic landscapes to offer.
As a construction intern in Nepal, you'll participate in improving learning environments at local educational facilities. These projects are led by our local partners, like primary schools. The objective of these projects is to improve the educational outcomes of the students and to improve the health and safety standards of the facilities. Specific improvements to these facilities include adding more desks to classrooms, or renovations of libraries or bathrooms.
Project work is led by our local construction coordinator. While no previous experience is needed for this project, physical fitness and construction experience can be beneficial.
Project training, supervision and guidance is provided by our staff and local construction personnel. Construction volunteers in Nepal can expect to assist with constructing furniture, building and repainting walls. You'll be working with local workers for the duration of most of our projects.
If you're after an internship that'll double up as a tropical island experience, then Fiji is the place for you. The clear waters of this archipelago of pacific islands are home to nearly half of the world's known coral species – making weekend scuba diving trips an exciting and colourful experience.
Join a community development internship in Fiji and get the chance to make an impact in a variety of community development initiatives, including tasks that will improve the condition of facilities that are used by local community members to empower themselves.
You'll work alongside local community members and contribute to development initiatives in the region. You could contribute to finding solutions to important issues that impact the quality of life in these communities, such as access to fresh water, access to education, food security, and options for income generation.
The goals and priorities of this internship are discussed and determined in collaboration with the local communities of Moturiki and the Dawasamu district.
Download our program brochures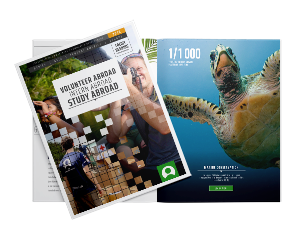 Make the most of your intern experience. Consider these internship abroad advantages when deciding whether to intern at home [...]
Entrepreneurship and innovation are key factors boosting smaller businesses around the world, and subsequently creating more [...]
For those who love being surrounded by the ocean, Fiji is the perfect place to volunteer abroad.