Business Internships Abroad
Why sign up for GVI's business internships abroad?
On a GVI internship abroad, you're promised top-rated opportunities to improve your employability in a meaningful way. Spend your days diving beneath the warm waters of the Caribbean coastline while working in a marine conservation job in Mexico, and learning to manage a marine conservation business. Or, take up a placement in Peru, where you can climb to the top of one of the world's highest mountain ranges – when you're not working with the local community to come up with sustainable business development strategies.
International business internships with GVI offer an alternative to an office-based experience. You'll learn from the best in the field, right where the action is. Business internships abroad offer you exposure to:
project management

workshop design and delivery

communications and social media

lesson planning.

You'll even gain access to GVI's online leadership course, as well as a specialisation course in community development, after which you'll receive two certificates from the University of Richmond.
And, our organisation has been awarded the Star Verified Provider award by GoAbroad because we:
are dedicated to international education

conform to high standards of business practices

provide top-quality international courses.
Every one of our business internships offers learning opportunities that contribute towards your professional development, no matter what field you're in.
And, you can refine your experience to meet your specific professional goals by choosing from three different types of business internships:
Each internship offers opportunities to add to your business management capabilities in a supportive environment. You'll work with reputable, local partner organisations and GVI staff, and put theory into practice in a real-world context.
And let's not forget that you'll get to do all of this while experiencing the sights and sounds of a destination abroad. GVI offers top-rated international business internships in countries in Africa, Asia and Latin America.
For more information on how to differentiate yourself, and leverage your internship experience, read this article: How to describe volunteer experience in a CV or job interview. And you'll receive support and guidance on this after your program ends with access to our Careers in Sustainable Development course, and two career coaching sessions with a remote career mentor.
GVI's international business internships offer the best way to learn about business
Travel abroad for a business internship and you'll be surrounded by the culture of another country. While collaborating with local partner organisations, you'll get to improve on, apply and adapt your business skills to address some of the biggest challenges facing communities abroad.
And as you work closely with community members, you might even have the chance to learn a new language that you can bring into the workplace. International business internships can have you standing head and shoulders above the rest because you'll be learning in a diverse and comprehensive way.
All of our business management internships are aligned with the United Nations Sustainable Development Goals (UN SDGs) and follow GVI's five empowerment principles: collaboration, equal partnerships, support, sustainability and representation.
This sets the foundation for business management internships that are grounded in business best practice, sustainability and ethics. On a business internship abroad, you'll have ample opportunity to broaden your global perspective and build on your personal development, all while you up your business management know-how.
What types of business exposure do interns get on a GVI business internship?
International business internships offer opportunities to get involved in different types of business settings including service businesses, merchandising businesses and micro-enterprises.
Micro-enterprises are small-scale businesses that employ small numbers of people – usually ten or less – and provide goods or services to their local community. These businesses can be funded by banks or other organisations, since many micro-enterprise owners don't have enough capital to start-up on their own. Because micro-enterprises provide employment opportunities and services to the local community, they can contribute to sustainable development in a meaningful way.
GVI's business internships help local businesses to develop and maintain sustainable business practices. Micro-enterprises are an important part of the business sector in many of the low- and middle-income countries where GVI's business internships take place. Engaging with these types of businesses offer key learning opportunities.
Each type of business internship abroad contributes towards gaining a global perspective on business matters, in addition to local capacity building.
What are the different types of business internships?
Depending on what you're looking to get out of your internship experience, you could pick from three different types of internship opportunities that are focused on business: core internships, career internships, or research internships.
What's the difference?
Core
internship
Well, on a core internship, you can get involved in a variety of business tasks that touch on different spheres fieldwork. For example, you can engage with community members to develop projects that'll add to business development in their area, plan classroom activities that add to children's education and build on their future business potential, or facilitate alternative income generation workshops for local women to contribute to gender equality within the country's business sector.
As a core intern, you'll also have additional opportunities to hone your leadership and marketing skills, through tasks like planning and leading skills development workshops, or helping to develop marketing material. All the while, you'll receive guidance and support from a remote internship supervisor.
Career internships
While core internships make it possible to gain a broader perspective of the field, career internships give you the chance to grow your experience in a specialised sector of business – which is great if you're more confident about the specific career path you'd like to follow.
So, for instance, if you're set on going into business communications, you'll gain tons of exposure while on a career internship on a communications program. You might engage with school children while facilitating English lessons, and work with local partners to produce marketing content. You'll also have the chance to take on additional collaborative work with local and international partners, and consult with other career interns in international GVI locations, under the guidance of your remote career internship supervisor. This will grow both your business knowledge, and your worldview too.
Or, if women's empowerment business strategies are what you're most interested in, you could have the chance to work with local and international organisations that focus on gender equality and be part of developing and implementing business development workshops for local entrepreneurs.
Research internship
And, if you're looking for a research-based internship where you can get involved in work that includes data collection and analysis for your university or independent research project, then our research internships are for you.
Our research internships give you the chance to get stuck into collecting important data, growing your research skills and methodologies, and even assist with kick-starting or completing your thesis while adding to research that builds on global goals. You'll have the chance to engage with research interns at other GVI global hubs, tap into existing datasets and further your research goals under the direction of your remote research internship supervisor.
You might collect data on the movement, population dynamics and hunting behaviours of predators in Karongwe Private Game Reserve in Limpopo, South Africa, and monitor how this affects management decisions in the reserve. Or, you might join an international team in Pokhara, Nepal, and investigate the impact of skills development workshops on women business owners in the area.
You could choose to do any of the following programs as a core internship, career internship, or research internship.
Communications and social media business internships abroad
Find out how communication contributes to improved business management, and how to create the type of content that is relevant, engaging and effective in marketing a business.
Business management internships in women's empowerment
Focus on the types of business activities that promote women's access to employment and earning opportunities. By getting involved in women's empowerment business internships abroad, you'll be part of a global movement working on making business more equitable and inclusive. This contributes towards growing the business potential of low- and middle-income countries.
Marine conservation international business internships
Work in collaboration with established local marine conservation organisations and get a feel for how marine conservation efforts are managed. Get involved in developing and managing sustainable marine conservation programs, and make an impact in both the world of business and in the sea.
Business internships in childhood education
Assist in promoting local people's access to quality education, public health and employment opportunities by taking part in one of our education-based international business internships.
Where can I volunteer with GVI on a business internship abroad?
Business internships abroad in Africa
Who says a business internship can't include strolls along a sandy beach while watching fishing boats bob along the waters of the Atlantic Ocean?
International business internships in Kokrobite, Ghana, offer the chance to experience the culture of a fishing community just a little bit away from the country's capital, Accra. Get involved in the global business arena while contributing to women's empowerment efforts on the ground. Here, you can work with local partner organisations on activities such as the planning and implementation of skills-development workshops that assist local women in increasing their employment and earning opportunities.
You'll be contributing to the United Nations Sustainable Development Goal (UN SDG) 5: Gender Equality, and to growing Ghana's business potential.
Saunter down a walkway that snakes through the mangrove forest on Curieuse Island, and listen to the sounds of nature all around you. Find your way back to the green flatlands of the island and see how quickly you can spot a giant tortoise among the forest vegetation, or spy the world's largest nut – the coco de mer – perched precariously in its palm tree.
The rich biodiversity of plants and animals found here, mixed with the significant effects of global warming on island species, has seen conservation efforts becoming a serious business on Curieuse Island.
Business internships in Seychelles are all about developing marketing skills in communications and social media that contribute towards conservation efforts on Curieuse Island. Develop the skills you need to develop blog, social media and other marketing content that is engaging, relevant and effective.
You'll work in collaboration with local partner organisations and even get involved in conservation research. This means you'll be contributing towards UN SDG 14: Life Below Water, and UN SDG 15: Life on Land by being involved in and promoting international conservation awareness.
Take your business aspirations to Cape Town, South Africa. Hike up to the flat-top of Table Mountain and see how the city below spills out onto the shores of the Atlantic Ocean. While you sight-see, find out more about the cultural history of Cape Town, and how this has affected the development of the business sector in this country. Now, get stuck into your business internship abroad while you contribute towards finding sustainable solutions that work in the South African context.
Working with local partner organisations, you'll be involved in planning, implementing and managing income-generating opportunities. These improve access to quality education and public health opportunities for women living in rural areas and informal settlements.
International internships in Africa will have you experiencing what it's like to work in the global business arena while contributing towards UN SDG 5: Gender Equality.
International business internships in Latin-America
You'll dive into marine conservation jobs from the sandy shores of the Caribbean coastline of Puerto Morelos. Its waters are aflutter with a range of sea life – like rainbowfish, trumpetfish and moray eels. But the biggest star of the show in Puerto Morelos is the world's second-largest barrier reef, which is tucked under the surface of the water.
The Mesoamerican Barrier Reef System makes this destination key in marine conservation efforts. Coral reefs are essential parts of the marine ecosystem and are significantly affected by climate change. Business internships in Mexico offer interns the chance to work in jobs centred on coral-reef conservation and the management of marine conservation efforts.
This type of internship opportunity teaches you the diving and biological survey techniques that you need to work in the field of marine conservation. You'll find out all you need to know about how to implement and manage sustainable marine conservation efforts, and contribute towards UN SDG 14: Life Below Water.
Business management internships in Asia
In Siem Reap, Cambodia, you can fill your days with international community development work, and your nights taking in the sights, sounds and delicious smells of Siem Reap's night markets.
Cambodia also offers a communications internship where you can work with local partner organisations, and facilitate English-language lessons within the local community. This internship also offers you the chance to contribute towards research in an area of international development that most interests you.
These internships will have you adding to global efforts aimed at UN SDG 17: Partnerships for the Goals.
Put a shine on your communication skills by getting involved in a communications internship in Luang Prabang, Laos. In this mountainous terrain dotted with Buddhist temples, you'll get to experience the culture of Laos firsthand, while working closely with the local community.
Fill your days with meaningful work when you get involved in developing educational and marketing materials to support our partners in Laos. You'll also participate in the planning and implementation of educational classes and workshops with school-children and the local community. Altogether, these efforts contribute towards improving the economic prospects of the local community.
Planning your business internship abroad with GVI
With so many types of business management internships on offer, how do you know which one is the right fit for you?
Find out more about the different types of business internships on offer
Think about the type of professional development you're hoping to achieve. If you're working in human resources and looking to improve on your people skills, then an internship abroad where you'll work with large groups of people might be best. If you're an aspirant entrepreneur eager to find out how to set up and manage micro-enterprises, then a women's empowerment or communications and social media internship could be the key to reaching your goals.
Choose an internship that speaks to your professional aspirations as well as the goals you have for personal growth. This will ensure that you have the best experience possible.
Remember that GVI offers support before, during and after your internship. Making use of this support-channel before deciding on an internship ensures that you make the right choice for your career goals.
Apply for business internships with enough time to meet deadlines
Whether you plan to add value to your university application or to buff up your resume in preparation for an employment opportunity, you need to stay ahead of deadlines.
Find out the deadlines for university, internship, or job applications early on and plan your internship around them. You'll want your business internship abroad to be considered as part of your application, and this may not happen if you aren't yet registered for the internship. In some cases, an internship abroad will only count if it's been completed. Not knowing about these deadlines beforehand can set you back a long way if the internship is a requirement for your application.
Does GVI offer business management internships during the summer?
Yes, we do. Let's face it, full-time students may not have the time to take on a business internship during the academic year. But, GVI offers internships that take place during the summer vacation too. So don't let the stress of not having an internship under your belt get you down. You can sign up for a summer internship program and get a professional-development experience that also fits into your schedule.
How long do GVI's summer internships last?
All of GVI's business internships are flexible and you can choose to sign up for two weeks, 12 weeks, or a duration somewhere in between. The same applies if you choose to intern over the summer vacation period.
When should you apply for a summer internship with GVI?
It's best to apply as early as possible. Besides the fact that we accept a limited number of interns, there are a number of checks that need to be completed before an intern can travel overseas or participate in a GVI program. Applying for your summer internship abroad no later than six months before the program start date should give you a comfortable amount of time to prepare for your business internship abroad.
Download our program brochures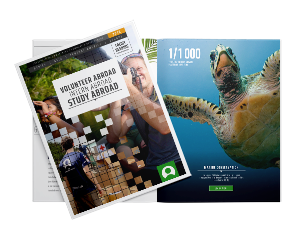 Our Business Internships Abroad