This location takes you to the stunning central region of Costa Rica, to the small town of Cimarrones, on the border of the Cartago and Limón provinces. The town is only a three to four hour journey from San Jose. The main livelihood of the local community is based on agriculture with the surrounding area being home to some of Costa Rica's finest coffee bean farms.
Cimarrones is also within travelling distance to many gardens, monuments and national parks such as the Irazú Volcano National Park, known for the volcano whose summit stands at an altitude of 3,432 meters above sea level. The landscape is made up of sprawling farmlands and swathes of forest, which often contain a stunning array of wildlife with monkeys and toucans in plain sight most days. This makes it an exceptional place to volunteer, intern, teach, learn a new language, relax and enjoy the casual way of life.
Our GVI participants and staff have made partnerships in Cimarronnes town with the Liceo Rural Nairi Awari High School, Escuela Las Brisas de Pacuarito Primary Cchool and a local women's entrepreneur group. The programs here are run in partnership with these local authorities with the aim of improving the level of education in this region by providing English classes as a mean to improve the skills of local community members and assist in community development initiatives.
If you want to explore the rest of our Latin America volunteer programs, follow this link for more information.
Download our program brochures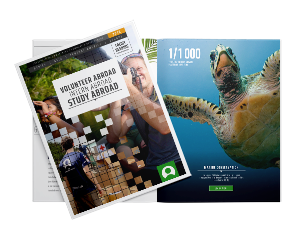 OUR PROGRAMS IN CIMARRONES